There is now the option to have Live Chat enabled for swifter and real-time response to any and all issues you may be facing. This is split into 2 distinct options to suit the needs of your company.
Mtivity Support Live Chat - This will be a direct chat window provided to all of your Professional users. This will be accessible at any point during our operational hours and will provide swifter and direct resolution to any issues.
Link-through to existing Zopim/Zendesk systems - There is also the ability to utilise our new Live Chat functionality to distribute this to all users of your systems and link them into an existing Zendesk or Zopim system. This will provide an option for all of your users to contact your internal support systems, allowing for swift resolution to common problems surrounding your workflow.
In order to activate any of the Live Chat features listed above, please contact Mtivity Support to discuss this and how it can be implemented for you.
If you are utilising Live Support integration with an existing IM or Zendesk system, the likelihood is that you are already aware of how to use the system and yours will operate a little differently from our own. However, for those that are new to both the Zopim and Zendesk system, there is an explanation to some of the functionality below to help you better understand the options available.
Below is how the Live Support button will appear for Mtivity's Live Support.

Upon clicking on this, you will be presented with one of two basic contact fields.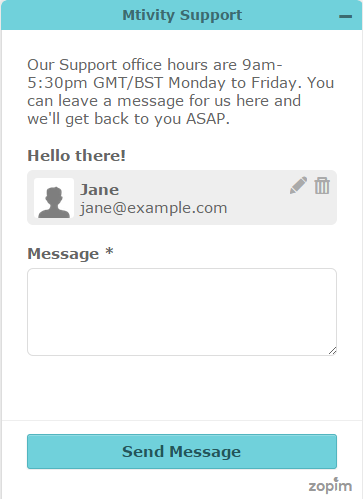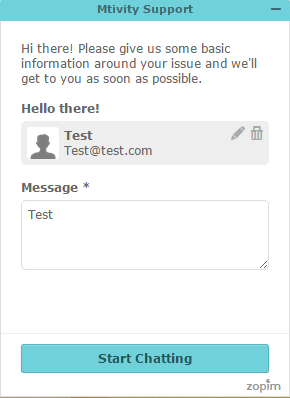 The first, listing our operating hours, will only display outside of our operating hours to indicate that we are currently offline and you can use this to leave a message which we will respond back to once we re-open for business.
The second will allow you to fill out your details and place an initial message. Preferably this will contain a rough outline of the issue.
Once you have submitted a message to the system, and assuming it is within our operating hours, you will be delivered to a chat window with someone from Mtivity.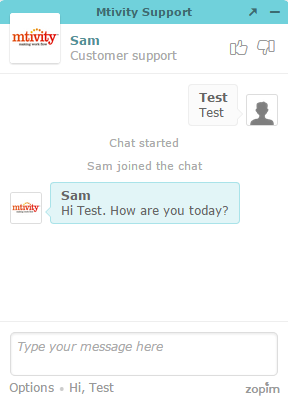 Here, you will be able to explain whichever issue you are facing and gain a resolution for your problem. During the course of the conversation, the Mtivity representative will be able to see your site navigation history in order to assist with troubleshooting as well as specific technical information surrounding your browser version and connection.
During the course of the conversation, there will be a few options available to you in the bottom left under the 'Options' text menu.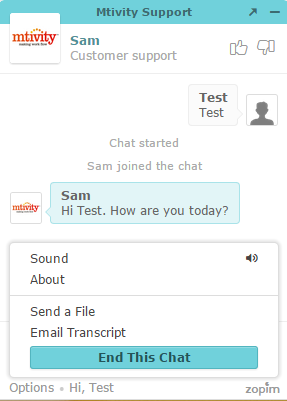 By choosing Sound, you can choose whether to mute the notification for replies, About will give you some information surrounding the chat client. By choosing Send a File, you'll be able to do just that, choosing a file from your PC. Choosing Email Transcript will email you a copy of everything discussed within the chat window.
Once you have reached a resolution, you would push the End This Chat button to signify you are finished. At this point, a Zendesk ticket would be created. This will either be archived (assuming full resolution is reached) or left open and handed to the relevant member of the team to become resolved in due course. You will be notified via email of this ticket being created.
As a reminder, the Live Support functionality will be disabled by default on your company accounts. If you feel that this would be of use to your Company, either as a tie-in to your existing internal Live Support service or as a method of swifter resolution with Mtivity, then please contact Support directly to discuss options of implementation.
Learn how Mtivity helps you streamline the entire marketing supply chain.