Changing Your Primary Email Address
Sam Murray
As A User
This is quite simple and is performed from the 'Personal Setup' section in the top right.

From here, hit the E-mail Setup tab and insert your new email address in the box provided then hit Save. Please note: you may need to complete an email verification which is automatically sent to that email's inbox and activated by a link within.

Once you've done this, you can hit 'Edit' on the right hand side of your E-mail Setup page.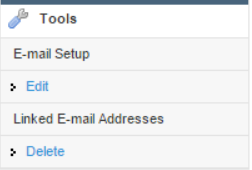 From here, you'll be able to choose your new primary email address from the drop-down menu provided.

With that, you're finished!
As An Admin
If you are looking to alter your own account, please follow the process listed above for users.
If this is to edit other users of your Company, please follow the steps below.
Firstly, navigate to Admin in the top right followed by the Data Management tab. From here, you will want to hit the 'Users' checkmark and then Export Data.

Once exported, open this .csv file in the spreadsheet editor of your choice, alter the users you wish to edit and then import this data back in by returning to the Data Management tab and using the Import section, selecting Users and re-importing the updated .csv you just edited.

Learn how Mtivity helps you streamline the entire marketing supply chain.